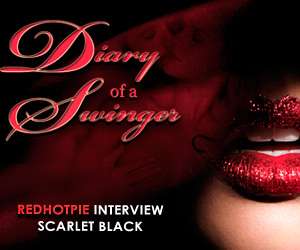 So we recently got a chance to sit down with one of Australia's hottest authors, Scarlet Black who recently penned the sensational swinging tale, Diary of a Swinger! The candid and raunchy tale follows Black's journey into swinging with her partner and documents their adventures, thoughts and emotions. It's raw, sexy and informative and should definitely be on the "to read" list for anyone experienced in or curious about swinging!
RHP – What inspired you to begin writing Diary of a Swinger?
Scarlett Black – The idea came after our second or third outing when I came to the conclusion that a lot of women would be interested in my journey, I know it would have been the sort of book that I would have wanted to read. So I decided to write a true and honest account of my adventures. Most chapters were written within a few days of any events while things were still pretty fresh in mind.
You discuss that both you and your husband have had those moments where you questioned whether swinging was a positive or negative influence in your life. What would you say to couples considering joining the scene?
I would say that the positive now far outweighs the negative for us, but at the beginning there are so many new experiences and emotions to contend with. Before entering the scene I would strongly recommend that couples fully discuss what their boundaries are and what they expect to get from the scene. One thing for sure though you really have to have a rock solid relationship and swinging is not the answer to a failing partnership.
You recount an experience of telling a couple that were 'vanilla' friends of yours – have you opened up to any more of your vanilla friends about your lifestyle? What were their reactions like?
I have not opened up to anymore vanilla friends, I feel that most of them would be totally shocked and remove us from their Christmas card list if they knew what Scarlet and Jack got up to after dark! The female friend we did share our secret with is absolutely desperate to try swinging but her husband is not at all interested. She always wants to know what we have been up to and demands a full debrief.
You also stated that it was you that instigated 'breaking' the rules, not your husband. In hindsight, would you change the way that your 'firsts' in the scene occurred?
Probably not, let's just say Scarlet was a very naughty girl and took advantage of the moments as they arose!
What is the most important thing that you've learnt from being in the swinging scene?
Swinging has given me a true freedom. I have finally released that inner sex goddess that has been locked away for most of my adult life. Without wishing to sound vain I now consider myself to be one hot confident sexy woman.
Besides improving the communication between you and your husband, what other positive influences has swinging had on your relationship?
You are quite right, we have grown to understand each other at a much deeper level and have a total honesty policy where we talk about absolutely anything. Besides that though, its great fun to enjoy our sexual experiences together. Both Jack and I also derive great pleasure from seeing each other having sexy experiences with others. It has probably made our relationship more interesting and certainly more exciting.
Have you had anyone recognise themselves in your memoir?
Not as yet, however I believe that once this is out on RHP a few cats might be out of the bag. The scene is relatively small so it is probably quite inevitable that several readers might recognise themselves. So if you do recognise yourselves, a big sexy kiss to all of those who were involved.
You discuss not only your positive swinging experiences but also address your 'lows' in the scene. Have any of these had an impact on your swinging lifestyle in the long-term?
Not at all, we have moved on pretty quickly. As I mentioned before it was all so new at the beginning with sights and experiences you could hardly have imagined. As we have progressed on our journey the highs now most definitely outweigh the lows. Jack and I always joke that the worst swinging evening is always better than the best vanilla evening.
Have any of the reactions that people have had to Diary of a Swinger surprised you?
No there have been no surprise reactions. We have been very flattered to hear that the book has been considered a very good erotic read. We also have had quite a few comments along the lines of how exciting and wish we could be brave enough to do what you did.
Has your involvement in the scene changed since writing Diary of a Swinger?
Yes, I think we are now even more adventurous than we were and nowhere near as scared as we used to be. For example earlier this year, we were brave enough to take a short overseas holiday at a nudist/swingers retreat. It was genuinely the best holiday we have ever had. I have not been able to take the smile off my face ever since! We also really enjoy hosting private couple parties in our own home and they are such fun. I won't give any more away at this stage as who knows, I might even write another book.
To win one of five copies of Diary Of A Swinger click here.
To purchase a copy of Diary Of A Swinger click here.

Related posts