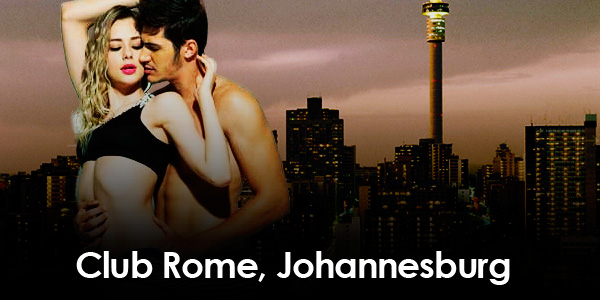 RHP Interview – Jaco and Lisa from Club Rome, Johannesburg

RedHotPie Editor, 2 years ago
10 min

read
87
Here at RedHotPie we strive to keep our members abreast of all the latest and greatest lifestyle trends and developments, and as such, we've sent our intrepid RHP international party insider, Bessie Bardot to cover the most luxurious, salacious and exclusive party scenes in the world.
This week, in keeping with the RedHotPie mission charter, Bessie has gone behind the velvet rope in Johannesburg, South Africa, visiting the world renowned, Club Rome. Getting the inside scoop, Bessie chats with owners, Jaco and Lisa on what the scene is really like at one of the planet's largest and sexiest lifestyle venues.
Club Rome By Bessie Bardot:
Johannesburg: this vibrant electric city is not only the largest and wealthiest city in South Africa, it's also known for its gold & diamonds: the most sparkling of which is surely Club Rome, the biggest swingers and lifestyle's club in the southern hemisphere.
Set over 1700 square meters, Club Rome hosts an average of 14 parties monthly with an average of 80 to 300 members attending any given party. New owners Jaco & Lisa share with me their take on the lifestyle and how they welcome all types of play people from the cheeky to the kinky.
(Bessie Bardot) How did you guys get into the lifestyle?
(Jaco & Lisa – Club Rome) We were both already in the lifestyle with previous relationships, after those relationships ended we were both out of the lifestyle and in "Vanilla" relationships for several years. We weren't expecting to find a new partner in the lifestyle. However not long after these relationships ended a mutual friend Celeste who is also a life coach and spiritual sexologist set us up on a blind date. We were both hooked.
Then when we heard our favourite lifestyles venue was on the market we jumped at the chance.
How do you describe Club Rome?
Most importantly Club Rome is a safe environment where you can come along – no matter how much lifestyle experience you have or have not had – and not be pressured. There's a full bar and dance floor with a series of DJ's throughout the night, so even if you just want to come to have a few drinks and socialize in a sexy environment that's acceptable. The dance floor is quite separate to the play areas, so we find everyone from vanillas, nudists, voyeurs, exhibitionists, soft play, full play and hard play (orgies) beginners and long-term lifestylers love Rome.
Rome is home to all its members. It's the best value for money, we put on a full buffet meal from 7.30pm till midnight, so you can come early evening for dinner and relax and unwind while you get to know everyone.  We try to be that step above the rest – being in the lifestyle ourselves we knew what we and our members wanted and expect from a lifestyles venue. We are always looking for new ways to better Rome and our members and their experience.
Who comes there?
We're a really happy-go-lucky club, so we attract a wide range of people from skinny to big, young to old and everyone in between. Our regulars range from a group of 18 year olds to a couple in their 60's.
Whilst we welcome all types, we work hard to screen & verify everyone who registers a profile, we're known as the friendly club and we want to keep it that way, so if someone is rude & crude that won't be a fit for our members. Newcomers love that everyone is very chatty and welcoming.
Tell me about your daytime fun & breakfast events
DTF stands for Day Time Fun. Every Wednesday we open during the day for the mid-week naughty crowd: often business people or entrepreneurs who want some hump day fun in between meetings. It's a mid-week breakaway, completely out of the norm and really popular.
And we recently added Breakfast on Sat & Sun mornings, both as sustenance for the guests still in the venue from the night before and also an extra time option for people who want to meet up with new potential play partners for the first time. They can break the ice and get to know each other over breakfast here instead of an awkward encounter at a regular café, and if it goes well they can head straight to a play room.
I noticed you make an effort to cater to all the different types of swingers and lifestyles
Yes, because of our extensive bar & dancefloor area this really is like a sexy club with options. Lots of 'vanilla' people come knowing they can dance in the club section and enjoy themselves without getting harassed.
Then we have regulars who are nudists and love to hang out at the bar without being judged.
The exhibitionists are happy to be watched in a play by the voyeurs, some do and some don't play with others. They love our Silhouette room: there's a white screen with a back light so all people see is the silhouettes and shadows as you play.
The voyeur room is also popular, complete with Jacuzzi and two-way glass so you can watch others in a play (exhibitionists). Then we have our soft swingers who play with their partner and others, minus the penetration.
Full swingers partner swap and we cater to them with a dedicated 'couples orgy room'. Singles aren't allowed in unless invited by a couple, then when the couple leave the room so must the single.
Hardcore swingers love the orgy room, BDSM open play and our dark room where it is literally pitch black.
We also have 7 private rooms. If the door is closed you're not allowed to knock or open the door. Occupants can leave tags on the door: "Single guy welcome", "Couple welcome", "anyone welcome" or leave the door open to be watched from the door or be invited in by the members in the private room.
We just want everyone to feel comfortable that they can come and play, at their own comfort level and feel safe.
Tell me about the lady's rule
The lady's rule means that men must wait for the women to initiate, making the lady the hunter. So the lady initiates conversations with those she is interested in, and if it's a couple she starts conversation with the lady of a couple. We advise this as it is respectful to the couples, it also very importantly stops the guys from groping ladies and making them and their partners uncomfortable. It's all about no one feeling pressured. We feel this is so important because the moment someone feels pressured they're not going to have a positive experience and come back. Club Rome has been open for 19 years because our members feel and know they are safe here, it's one of the key points that makes the club work. This rule allows both women and men the option that they can simply decline and they don't have to explain themselves. We ask you to be clear and firm, don't say "Maybe later" because they'll come back later. A simple "Not tonight "or "I'm not interested" is best.
You also have lots of different events to suit all tastes
Yes we have club/party nights with commercial, uplifting house music one night, and a live band the next. If you work nights, come to our Day Time Fun on Wednesdays. If you're a morning person come for breakfast.
Nudist night, BDSM, Roman Empire, Master & Servant, Revenge of the Nerds, Roman toga night with male strippers and big events like ULP – United Lifestyle Party, where all the clubs come together for a huge night of fun.
Your 'staff' are volunteers from the lifestyle, it really is a family, tell me about that
Yes we have our usual staff but then we also have two volunteer couples who host each night and choose a theme. They just love the lifestyle and want to be part of it in a bigger way.  We see all our members as family.  If it's not safe for them to drive home, we in encourage them to stay go and sleep in a private room, wake up for our breakfast and head home, safe and sound.
Lisa, tell me about your Lifestyle Coaching
I call it "THE DO'S, DONT'S AND ETIQUETTE OF THE LIFESTYLE"
I always advise you start healing your own stuff before you swing. So I work with guys and girls on taking control of their mind, thoughts and feelings so they are ready to swing.
The lifestyle has many awesome benefits but it has to be approached in the right way. It's not meant to break up couples and marriages. There's always one partner who is raring to go with his or her foot on the pedal, while the other is trying to slow down and this can cause unnecessary tension. So I work with them both in dealing with emotions, thoughts of inferiority & helping them define their comfort levels. Women learn to express themselves without getting too emotional, and men learn to approach playing with compassion and not just have a 'wham bam thank you maam' robotic approach to swinging.
Jaco, tell me what advice you'd give to people starting out
Before you walk in the door and have your first drink, make sure you discuss your personal boundaries with your partner and your boundaries as a couple. Ask "Would you be okay to see me do this…?"  If they say no, set your boundaries below that. There's always a pusher and a puller, so follow the pace of the slowest person. Often the roles reverse, so be prepared for the shift. I always say never let alcohol or the heat of the moment alter your boundaries. If you put your partner on the spot in the middle of playing they will probably say yes, but guess what happens when the car door closes.  If you're unsure, stop playing and go into our Gladiator room and talk. When it comes down to it, the club's not going anywhere so you don't have to go all the way on one visit.
So how can people get involved?
Feel free to contact Lisa Morganti on Facebook and ask questions.
Then go to www.clubrome.co.za register a profile online and we will send you an email verification. Then you get an invitation to attend one of the events (you can't turn up without an invite, we won't allow you in).
You'll also get access to a secure and safe part of our website, a chat section so you can keep in touch with others without giving your personal details or work email!
What's your vision for the future?
It's great to see the lifestyle coming together and supporting each other – I don't see the other clubs as competition, the market is big enough for all of us and it's getting bigger by the day.
We personally have big plans to expand and make it more accessible for parents to play without worrying about their kids. We're also adding luxury rewards to thank our regulars for their loyalty. Watch this space!

Related posts