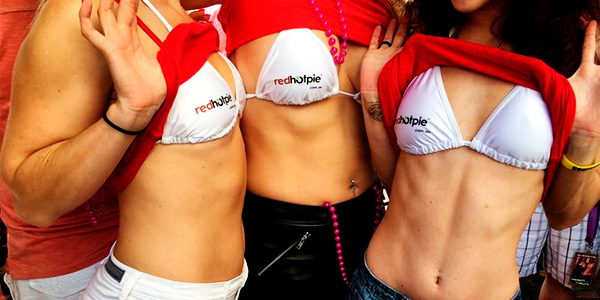 Naughty in N'awlins

RedHotPie Editor, 1 year ago
0
4 min

read
86
RedHotPie was a proud sponsor of The Aussie Swingers' 2016 tour to one of the biggest lifestyle events on the planet – Naughty in N'awlins. We asked the two intrepid lifestyle reporters – and long-time RedHotPie members – to travel to the Deep South and bring back all the juicy details to us! Here's what they had to say…
WOW! That is the only way to describe Naughty in N'awlins 2016.
The RedHotPie/Aussie Swingers contingent came, saw and conquered (or more accurately, saw, conquered and came) at the largest Lifestyle convention in the world.
Never heard of it? You have now!
For 18 years now, French Connection Events have been running Naughty in N'awlins, a lifestyle convention in the incredible city of New Orleans. This year was the biggest ever and saw over 2100 + sexy people descend on the Astor Crowne Plaza for 5 days of not only the most epic parties and sexy playrooms, but seminars, workshops and education.
So big was the convention this year, that an additional 200 rooms were secured at a hotel across the road and many other late bookers had to reserve rooms at other neighbouring hotels.
Our incredible group of Aussies were a real hit with everyone at the convention and everyone made many new friends both in and outside of the bedroom. Everyone loves an Aussie and our group also included couples from the US who wanted to travel with us to join in the fun. The RedHotPie/Aussie Swingers gift bag was the envy of everyone at the convention…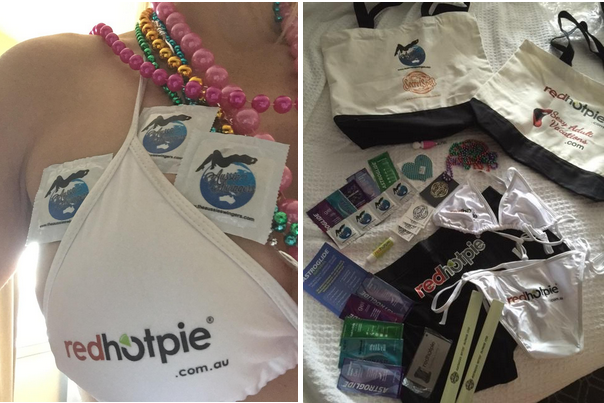 It included RedHotPie bikinis, boxers, lip balm, bottle opener, Aussie Swingers condoms, lube, beads, vibrator, name necklaces and pasties, Our Secret Spot temporary tattoos and glow in the dark slap bands, a tank top from The Swinger Cruise and a great beach bag from SexyAdultVacations.com. We thank all our incredible sponsors who provided this killer 'swag' and made our presence known.
Hear about it on our podcast 24, 25 and 26. Subscribe in iTunes or simply listen on our website.
I ask you, if you are in the Lifestyle or just curious, when was the last time you participated in Lifestyle education?
I know before we began travelling to these events, we hadn't explored some of the most important and fundamental aspects of the Lifestyle. As a couple, we sometimes get in a comfort zone or sexual rut and we love being challenged by other people's thoughts and opinions and even from this convention, there were things we thought we'd never be interested in but have now decided we'd like to explore more.
Some of the over 40 seminars included:
– How to Politely Say No
– G-spot Orgasms & Prostate Pleasure
– Basic Rope Bondage Technique
– Not All Women Are Bi and Not All Men Are Straight
– Overcoming Jealousy and Fears
– Domination/Submission as Therapy
– The Art of Touch and Non Verbal Communication
– How to Throw a Lifestyle Party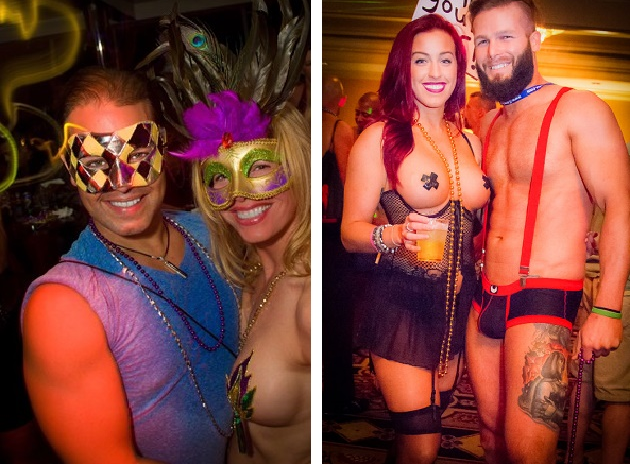 The most liberating thing about Naughty in N'awlins is that as Aussies, you can live the Lifestyle openly for a week without any fear of being found out, which is often something we can't do back home. The closest you can really come to doing this here is Passion in Paradise run by Kat Parties (it's a sell out every year!).
We are pleased to announce we will be returning to Naughty in N'awlins in 2017 (click for more details about what to expect!). We already have a number couples booked to join us next year. We'd love you to join us too and be part of this amazing event once again! It is a long way to go, we get it, but if you can make it part of a longer vacation and visit some other parts of the US or Mexico it can be worth the travel. Work on bumping up your frequent flyer points for it and reduce the cost of flights.
Now I want to clear up exactly who would benefit and enjoy this convention. It is a Lifestyle convention, meaning people who enjoy alternate sexual lifestyles or people who are sex positive, sexually open minded, people who are curious about different sexual preferences, those into kink, Swinger, voyeurs, exhibitionists and everyone in between.
Read more about it on The Aussie Swingers website or email us on our RedHotPie profile for more information.

Related posts