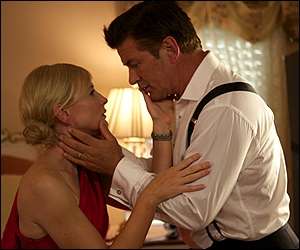 Blue Jasmine – DVD review

RedHotPie Editor, 4 years ago
2 min

read
69
To say that Woody Allen has enjoyed a chequered career since the halcyon days of Annie Hall, Manhattan and The Purple Rose Of Cairo would be a colossal understatement. In the last decade alone he's careened from the sparkling highs of Vicky Cristina Barcelona and Midnight In Paris to the depths of Cassandra's Dream and Scoop. And every time he does unleash a clunker, the demise of his career and the final fizzle of his creative flame is loudly trumpeted — Woody's lost it; should've stayed in New York; not a patch on his 'early, funny ones' etc, etc. Of course, he then turns round and delivers a film like Blue Jasmine.
Starring Cate Blanchett as a cosseted Manhattanite pitched headfirst into the post-meltdown realities of working-class America — realities she is hopelessly ill-equipped to deal with — this isn't merely vintage Woody, it's evidence of a whole new Woody. Expanding on the introspection that has crept into his more conventional dramas as he has aged, it also has room for biting satire, deftly skewering the heedless mores of the 'one percenters' who carry on regardless while the rest of the country stumbles in the wreckage.
Blanchett plays Jasmine, an icy New York socialite (one of the "social X-rays", as Tom Wolfe called them in The Bonfire Of The Vanities) whose pampered bubble bursts when husband Hal (Alec Baldwin, terrific) is exposed as a Bernie Madoff-style conman and she flees to San Francisco to seek refuge with her adoptive sister Ginger (Sally Hawkins). Her subsequent attempts to rebuild her life without practical skills, any concept of work and little education are painfully well-observed.
Featuring a powerhouse performance from Blanchett, Jasmine is a work of such incisive brilliance it gives the lie to any notion that Allen is a spent force, suggesting, moreover, that even at the age of 77, he still has the power to surprise us.
Source: empireonline.com

Related posts